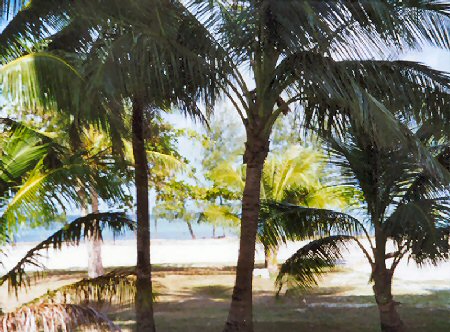 Figure 55. This photograph was taken from our luxury hotel room and shows the same beach in 1995.
In 1995, Joyce and I returned to Saipan. We stayed at the Pacific Islands Club, a five-star resort on the beach where the Fourth Marine Division landed. Ninety-five percent of the guests were Japanese as this is just a three-hour nonstop flight from Tokyo. It is especially popular with newlyweds and is called the Japanese Riviera because of its climate.
While there we visited the beach where I landed. There are still two Marine tanks, lost on D-day, resting offshore with just their gun turrets above water. Later, we drove to the location of the banzai charge. A Japanese memorial is now located there. I revisited Suicide Cliff and Banzai Cliff where many Japanese, mostly civilian, committed suicide by jumping over. I also got to the very top of Mt. Tapotchau where I had never been before. This mountain is actually the highest mountain in the world as measured from its base. While its elevation is only 1,545 feet above sea level, it is located by the Mariana Trench, at 38,635 feet the deepest ocean depth. This makes Tapotchau 10,000 feet higher than Mt. Everest.
Of special interest to me was visiting Banadero, the last Japanese command post. It was here that General Yoshitsuo Saito committed suicide. General Saito was commander of all Japanese forces on Saipan and Tinian. Also committing suicide here was Admiral Chuichi Nagumo, who had led the attack on Pearl Harbor. I had heard about both of them shortly after they had committed seppuku, but I had not seen the command post before.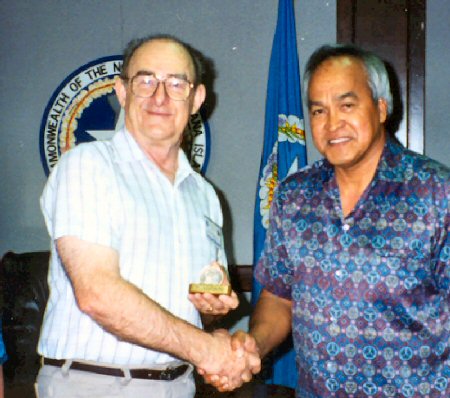 Figure 56. The Honorable Froilan C. Tenorio, Governor of the Commonwealth of the Northern Mariana Islands, presents Len with a commemorative medal recognizing his efforts in World War 2.
Saipan and Tinian, along with the island of Rota and some lesser islands, make up what is now the U.S. Commonwealth of the Northern Mariana Islands. While Joyce and I were visiting Saipan, the Honorable Froilan C. Tenorio, Governor of the Northern Marianas, heard I was there and invited us to visit him in his ceremonial office at the Capitol. We did so, and he presented me with a medallion recognizing my efforts during the war. I greatly appreciated this honor.