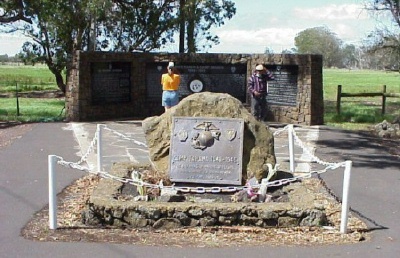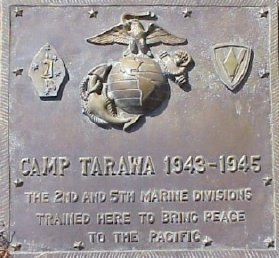 Figures 48 (left) and 49 (right). This memorial is all that remains of Camp Tarawa today.
My tutor fired up the unit and gave me very basic instructions on how to operate it. He then demonstrated one of its uses. A shower unit was nearby and he ran a hose to it and showed me how to run a steady stream of hot water. He then invited me to have a hot shower. I did so and it felt wonderful. He then asked me to run it for him while he did the same. When he finished his shower he told me to shut it down and from now on I would be on my own. I had been holding the temperature at 105 degrees, but as the gauge went much higher I was curious how hot I could make it. I spun the wheel that controlled it and a scream came from the bathhouse. Although the entry door was visible, some poor Marine had entered without my seeing him. At least he had a story to tell his buddies that night as they shivered under their cold showers.
Running the sterilizing unit was a good deal. All I had to do was standby in case it was needed, and many days I did nothing at all. On those occasions when I was working I always had a number of people stop by and ask questions as it was a rather unique piece of equipment. I always tried to answer the inquiries, but in truth I knew very little about it as my instructions had been so rudimentary and I didn't even have a manual to refer to.
One day a lieutenant stopped by. He barely acknowledged my salute and greeting and just poked his nose around in a most obnoxious manner, acting as if I were not even there. I thought if his mother had not taught him any manners, perhaps I should. Two vents for releasing the steam were located about waist high in the middle of the unit. The valves that operated them happened to be on the opposite side. By getting down on the ground I could see the lieutenant's feet. When they stopped in front of the vents, I stood up and spun the valves open. There was a very satisfyingly loud yell. I ran around to that side and found the lieutenant in a freshly steam-cleaned uniform. I apologized profusely for the accident, while he grumbled something about the fact that he shouldn't have been there anyhow and hobbled off in the direction of sick bay.
On March 12th, I celebrated my birthday by going to Hilo and boarding the troopship USS Calvert. We spent the next few days making practice landings at Maalaea Bay on Maui. This was the first black sand beach I had ever seen.
By the end of April preparations were seriously under way for another campaign. My days of leisure were over and I was working every day now. My main task was to provide steam for steam-cleaning truck engines. The trucks were to go ashore and land from tank lighters after the initial invasion. Mechanics were busy cleaning the engines and equipping them with a snorkel, which was a pipe extending upward from the carburetor so that the engines could be practically submerged for a short period as the trucks came off the tank lighters into the ocean and before reaching more shallow water.
Early in May I was busy generating steam. Pop-off valves on top of the two boilers were supposed to release excess steam so the pressure would not reach an unsafe level. I had been having trouble with the valves sticking so I tried to keep an eye on the pressure gauges and release the steam manually when the pressure became too great. This day my attention was diverted, the steam built up, and there was a loud explosion. Parts of my sterilizer rained down over the immediate area. This was not too serious a loss as the heavy piece of equipment would be left behind anyway and my work was nearly completed.
Years later, while a police officer for the City of Salem, Oregon, I took my patrol car to the city shop to have some minor work done on it. While talking to the mechanic I learned he had also been a mechanic with the motor pool for the 8th Regiment in Hawaii. While reminiscing about our experiences, I mentioned the subsequent landing on Saipan. He stated he had missed the invasion because just before leaving Hawaii some yahoo had blown up a sterilizing unit and he was left behind to repair it. I told him he should thank me for possibly saving his life.
On May 13th, we boarded the troopship USS Cambria for more maneuvers in the islands. On May 22nd, we went into Pearl Harbor. We stayed for about a week while other parts of our convoy gathered. On May 30th, we put out to sea. On June 9th, we entered Eniwetak lagoon in the Marshall Islands and learned our destination was the island of Saipan in the Mariana Islands. The Second Marine Division was joined by the Fourth Marine Division and the Twenty-seventh Army Division, which made our convoy the largest I had ever seen.
We left two days later, and in the darkness of early morning, June 15, 1944, we reached Saipan.