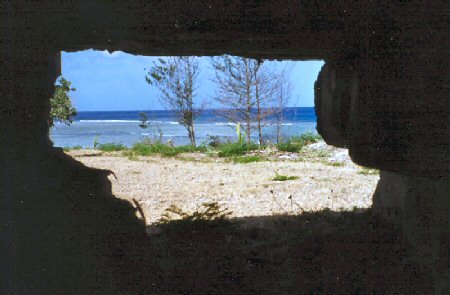 Figure 62. Japanese gunner's view of White Beach 1 as seen from a blockhouse still on the beach.
We were told we would remain on Tinian and this would be our rest camp until we were built back up to strength. Two of us, and a driver, were sent out to explore Japanese supply dumps and see what we could find that would be useful in building a camp. Along the northeast coast of the island were high cliffs that were just riddled with natural caves. We figured this would be a likely place to start looking.
We were correct in our assumption that this would be where the supplies had been stored. What we didn't know, however, was that when the line companies had swept through this area, they had by-passed the caves as they felt it too dangerous to secure them. We started by taking the normal precaution of throwing a couple of grenades in first, then jumping inside and spraying a few bullets around. As we found no Japanese, we disregarded this procedure and were soon racing from cave to cave to see who could find the best things.
This worked great for awhile as most of the by-passed Japanese had dutifully committed suicide, but after awhile we hit a cave where they had not been so thoughtful. We then went back to the hand grenades.
When our truck was fully loaded we returned to camp. Included in our loot were several cases of canned crab meat which was very tasteful, but our greatest find was a large case of black rubber raincoats. The only rain gear the Marine Corps issued was a poncho, which was a waterproof canvas square with a hole in the center from which a person's head protruded. It did the job, but was universally despised. Rubber was in short supply in the U.S. inventory anyway, as the Japanese controlled almost all the world's rubber producing areas. Not only were the raincoats much appreciated, but I even used mine the first few years I was a police officer after the war.
Shortly after this trip we were sent back to the caves again. Intelligence wanted an assortment of all Japanese weapons, ammunition, and explosives we could find, which would be shipped back to the States for study. We took two trucks this time, filled them completely, and gingerly drove to the dock in Tinian Town where we loaded them aboard a ship. As we finished loading, the ship's baker came to the rail with several loaves of fresh bread and gave them to us. This was the first fresh bread we had seen in weeks and we could not have received a finer gift. The pigpen crew ate good that night.
As more equipment arrived, we set up our regular camp and moved from the pigpen into six-man pyramidal tents. During the war the Japanese had enslaved many Korean laborers to work for them and several thousand had been moved to Tinian. When we took the island, we also took the laborers, and every day I would be assigned anywhere up to a couple of dozen of them to assist in preparing our camp.
As we could not talk each other's language, I worked the hardest of all trying to explain what to do, such as one day when we were supposed to bundle up tent pegs in groups of a hundred. I had to first count them out slowly while they followed in Korean, then I would show how to tie them. Often, it seemed the job involved digging ditches. First, I would dig the ditch to the correct depth, while their whole group would stand and watch. Then I would take the shovel and draw a line on the ground showing where the ditch would go. They were good workers when they knew what they were supposed to do.
I picked one older fellow who seemed very intelligent and decided he should teach me how to communicate. All of them understood Japanese, and I felt that would be the most advantageous for me, rather than using Korean. I learned enough key words and phrases that in a few days I could simply sit in the shade and shout out commands.
Life settled into something of a routine, with our biggest problems being medical ones. Combat forces one to live in filthy conditions, which in turn brings about an interesting assortment of diseases. Solomon veterans were getting few in number and, with me still being the sole exception, all the rest kept having recurring attacks of malaria. Almost everyone had dysentery, dengue fever, and yellow jaundice. A combination of the latter two put me in bed for several days and made me so sleepy I could barely be awakened long enough to eat.
After getting our camp in fairly good shape, we were told we were moving back to Saipan for the remainder of our time in the Mariana Islands. On October 24th, we did so.
Figure 63. Rusted out amtrac (amphibious tractor) remains abandoned near White Beach 1. This is like the one I came ashore in. Could it even be the same one?
When Joyce and I returned to the Commonwealth of the Northern Mariana Islands in 1995, we flew from Saipan to Tinian on a small plane of Pacific Island Air just for the day. While Saipan is booming, Tinian was just the opposite. Possession of most of the island has been retained by the U.S. military, and the civilian population is much smaller than it was during World War 2.

We rented a car and had a look at most of the places I had been familiar with. First, we drove to White Beach 1, which has now been named Chulu Beach. On the way we passed an old rusted amtrac still sitting by the side of the road. Next, we went to Ushi Field. Navy Seabees had gone to work on this airport as soon as we had captured it, and had built four runways capable of handling the new, long-range B-29 bomber. It is hard to believe, but in 1945 this was the busiest airport in the world, with a plane departing every 38 seconds. Now it is completely deserted.

It was at this airport on August 6, 1945, that the Enola Gay loaded the first atomic bomb, which was dropped later that day on Hiroshima. A few days later, Bock's Car loaded the second atom bomb here and dropped it on Nagasaki. At the time of those bombings, I had returned again to Saipan and was living about four miles from the loading site. This is designated a U.S. Historic Landmark and a monument has been erected at both atomic bomb pits. Joyce and I were the only visitors, although we did see a Japanese tour group drive by.

Next, we went to Tinian Town for lunch. Even its name has been changed and it is now called San Jose. We then visited Suicide Cliff where a number of Japanese, mostly civilian, had jumped to drown in the ocean. Not nearly as many jumped here as they did on Saipan, as word had reached a lot of the people that the Marines would treat them humanely, rather than as the Japanese government said. We even visited a now-deserted monument the Korean workers had built for themselves. I was unable to find the location of the pigpen, though, as there were no roads into that area.