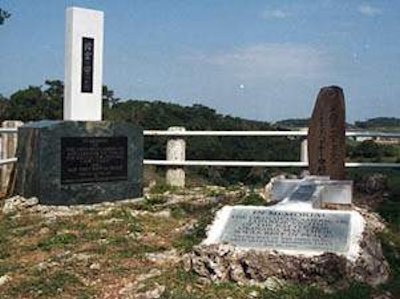 I remained seated by the trail and watched with fascination as this group of five or six people walked past me and continued about a hundred yards. I was still watching when a Japanese antitank shell landed right among them. In just another few moments General Buckner came by me again, only this time he was lying on a stretcher. Some reports say he was still alive upon reaching the aid station and died on the operating table, but he sure looked dead and unresponsive to me as he was carried by. General Buckner was the highest ranking U.S. officer killed by direct enemy action, on any front, during the entire war. Ironically, our regiment reached the east coast the next day, which completed the capture of Okinawa. Not only did the next day complete the Okinawa campaign, but this was also the last campaign of the war as there was no further ground action before Japan surrendered. For all practical purposes, you could say the General was killed just one day before the war ended. Incidentally, after the General was carried out, I began worrying once more.
An interesting comment needs to be added here. In February 2005, I received an e-mail from Paul S. Wallace of Arden Hills, Minnesota. He stated he had read my story with great interest as his dad was the Lt. Colonel Paul E. Wallace to whom I had referred. His father had passed away in 1987 after a distinguished career in which he had risen to the rank of Brigadier General. He added that his dad never talked about his wartime experiences except for the story about General Buckner. He had thought they were stupid for standing in the open and had just started leaving when the mortar round landed. Fortunately he had not been injured.
Paul Wallace (the son) had grown up on Marine Corps bases and had many interesting stories to tell. He thought it was unique that both the regimental and battalion commanders at this time had been a Colonel Wallace. He said that in the regiment they were known as Big Wallace and Lil Wallace. Of course to me, a low-ranking PFC, both men were considered big! Paul added that on December 7, 1941, his father was commanding officer of the Marine Detachment on the USS Pensacola, which happened to be at sea on that fateful day. The son and his mother, however, who worked for Naval Intelligence, were both at the Submarine Base, Fleet Headquarters, Pearl Harbor, and had a first-hand introduction to the event that drew the U.S. into World War 2. Because of his familiarity with the Marine Corps, Paul asked my permission to print a copy of my story and place it in the Marine Corps Museum at Quantico, Virginia. Of course, I agreed to that honor!
My stomach started bothering me again and I checked into the aid station to see if they had something I could take. To my great surprise, the doctor ordered me to be evacuated. I was taken to Naha and went aboard the hospital ship, USS Relief.
Never was a transformation so complete. I was given a very comfortable bed that had a real mattress on it and even included white sheets. I could hardly imagine such luxury. Not only did my quarters have air conditioning, but it also came equipped with Navy nurses. I added up all my benefits. In all my prior seagoing experience I had either slept on the steel deck or else had canvas bunks, which sometimes were as many as six high, and always located in congested, hot and smelly quarters. I had not even seen sheets and mattresses since leaving the States, and I had forgotten when I had last talked to a woman. The nurses not only looked nice, they even smelled nice. I could hardly wait until I had a shave and a shower as I knew I reeked. My uniform was discarded, burned no doubt, and I was given pajamas and a bathrobe to wear. Soon after, we sailed again for Saipan.
There was only one fearful aspect of the trip. The Geneva Convention prohibited firing at hospitals or hospital ships, but this provision was not always honored. In accordance with the Convention, the Relief was painted all white with a large red cross on the superstructure. At night all of the ship's lights were left on and floodlights illuminated the big red cross. We did not zigzag, but sailed in a straight line. After having sailed thousands of miles under wartime security, this blatant disregard of everything that had been drilled into me was rather frightening. Nothing happened, however, on our way to Saipan. If any Japanese submarines saw us they honored the Convention. I could not help often standing up on deck, though, looking for telltale streaks of a torpedo.